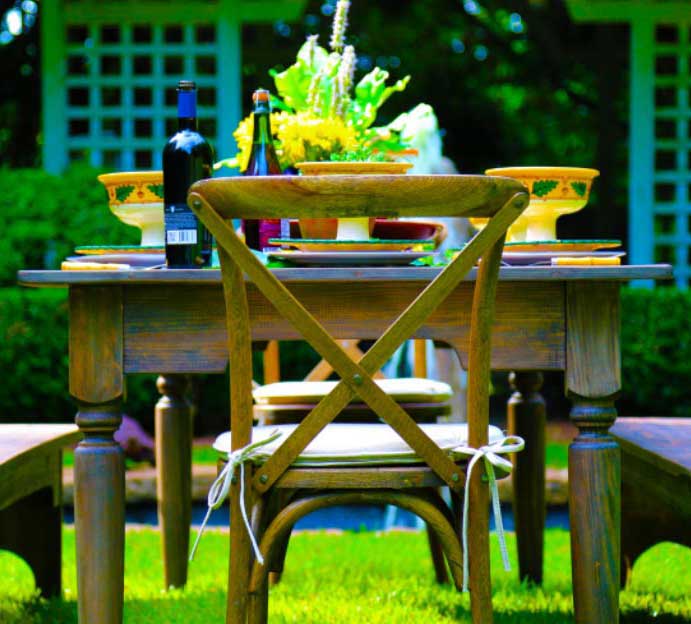 Click the photos below to see a gallery of images.
From seated dinners to having a place to set your cocktail, our tables come in all shapes and sizes to fit your needs.
Our always popular Farm Tables are easy to work with because they are beautiful without tablecloths. They come in the following shapes/sizes: Square 60"x60" is $90, Square 34″x34″ is $65, Round 34" is $65, Round 60" is $90, Rectangle 60″x30″ (our Sweetheart Farm Table) is $80 and Rectangle 98"x41" is $90 . All come in standard height or hightop.
Folding Tables have the most options of shapes and sizes. They will need tablecloths, and we are happy to help you with all your linen needs. All folding tables are $12 each, with the exception of our 72″ rounds that are $15 and our king tables (48″x96″) that are $30.
Our folding tables come in the following shapes/sizes:  Rectangle 72"x30", 96"x18", 96"x30", 48″x96″ (also known as a king table);  Round 24", 30", 36", 48", 60", and 72"; Half-round 48" and 60"; Square 48" and 60"; and serpentine. The following shapes/sizes of folding tables come in hightop:  72"x30" rectangle; 24", 30" and 36" round. 
Our newest tables are our Pipe Leg Tables. They have live-edge wood slab tops and black metal pipe legs for that industrial look. These only come in bar height. We have 6 and they are $175 each.
We also offer coffee tables and side tables in a variety of sizes and finishes (you can view these in our Lounge Furniture section).
HOURS OF OPERATION
Monday thru Friday
9am - 4pm
Saturday
By Appointment Only